| | |
| --- | --- |
| | Welcome to Weather Wiz Kids®. I'm meteorologist Crystal Wicker. I designed this website especially for kids to allow them to learn more about the fascinating world of weather. It's also a wonderful educational website for teachers and parents to give them the right tools to explain the different types of weather to children. |
Meteorology - The science that deals with the phenomena of the atmosphere, especially weather and weather conditions.

________________________________________________________________

WEATHER HEADLINES


Torrential rain from the remnants of a Pacific Ocean hurricane swamped the Desert Southwest Monday, September 7th with Phoenix and Tucson seeing some of the worst flooding. Rain and floods also soaked parts of Southern California and Nevada. In Phoenix, the rain turned freeways into lakes and forced the closure of highways, streets and schools throughout the region. Monday was the rainiest single day in the history of Phoenix, where weather records go back to 1895. Phoenix Sky Harbor Airport recorded 3.29 inches of rain, which broke the all-time calendar day record total of 2.91 inches. That record was set in 1933. In Nevada, an Indian reservation was evacuated after more than four inches of rain fell on the town of Moapa in a two-hour period. The rain was due in part to the remnants of eastern Pacific Hurricane Norbert. These tropical-type storms occur only once every five to 10 years in Arizona and result in prolonged, widespread rain. Monsoon storms, by comparison, are shorter and much more isolated.
Be sure to always have survival kits in your home and car.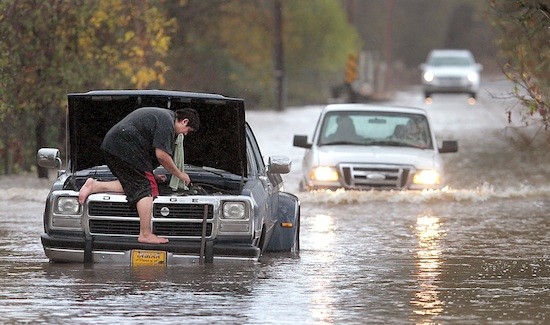 If you're a fan of Weather Wiz Kids, then check out my other website, ExploringWeather.com.