| | |
| --- | --- |
| | Welcome to Weather Wiz Kids®. I'm meteorologist Crystal Wicker. I designed this website especially for kids to allow them to learn more about the fascinating world of weather. It's also a wonderful educational website for teachers and parents to give them the right tools to explain the different types of weather to children. |
Meteorology - The science that deals with the phenomena of the atmosphere, especially weather and weather conditions.

________________________________________________________________

WEATHER HEADLINES


December is here, so get ready for some of the coldest air so far this season
as a strong winter storm moves across the United States. Here is the general timing for the Arctic cold front, by region: Monday: Northwest, northern Great Basin, Montana; Tuesday: California, rest of Great Basin, Wyoming; Wednesday: Desert Southwest, northern and central Plains, Colorado, New Mexico; Thursday-Friday: Upper Midwest, mid-Mississippi Valley, parts of Southern Plains. Keep in mind the coldest air will lag the arrival of the cold front as laid out in the timing above.
Be sure to always have survival kits in your home and car.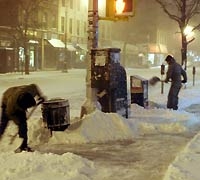 If you're a fan of Weather Wiz Kids, then check out my other website, ExploringWeather.com.