| | |
| --- | --- |
| | Welcome to Weather Wiz Kids®. I'm meteorologist Crystal Wicker. I designed this website especially for kids to allow them to learn more about the fascinating world of weather. It's also a wonderful educational website for teachers and parents to give them the right tools to explain the different types of weather to children. |
Meteorology - The science that deals with the phenomena of the atmosphere, especially weather and weather conditions.

________________________________________________________________

WEATHER HEADLINES


Areas of New England could see up to two feet or more of snow early this week with blizzard-like conditions. Moderate-to-heavy snow likely from portions of the coastal Mid-Atlantic region from New Jersey and eastern Pennsylvania to New England. Flight cancellations, major delays and possible airport closures are possible. Damaging wind gusts and coastal flooding are also expected. Learn more about blizzard under the Winter Storms link.
Be sure to always have survival kits in your home and car.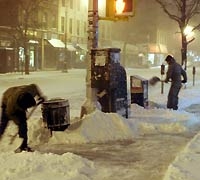 If you're a fan of Weather Wiz Kids, then check out my other website, ExploringWeather.com.