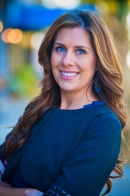 My name is Crystal Wicker. Ever since I was a child, I have always been fascinated with the weather. I remember going outside with my father and watching thunderstorms pass by. During one thunderstorm in particular, a tornado ripped through my hometown of Kendallville, Indiana and just missed my grandparents house. It was one of the scariest moments of my life and is one of the reasons I am a meteorologist today.
I have a Bachelor of Science degree in Meteorology and a minor in Journalism from Northern Illinois University. I have earned the prestigious American Meteorological Society's Seal of Approval and the National Weather Association's Seal of Approval. While I was in college, I interned at many different television stations and also did weather for the local television station on campus. During my senior year, I started working at WIFR-TV in Rockford, Illinois as their weekend meteorologist. Then, I moved to New Orleans, Louisiana and worked for WVUE-TV as their morning meteorologist.
In New Orleans, I covered many tropical systems, including Hurricane Katrina. Katrina was a strong Category 3 hurricane that made a direct impact on the city. It was the most challenging forecast I've ever made. When I went back to the city after the hurricane struck, I couldn't believe all of the damage. It just shows you how powerful hurricanes can actually be.  After Katrina, I accepted a job at WRTV-TV in Indianapolis, Indiana to be closer to my family.
I currently work as an account executive in the sales department at WXIN-TV in Indianapolis. I chose this career change, so I could spend more time with my family, but still have a passion for weather.
I developed the Weather Wiz Kids® website as an effort to show kids the exciting world of weather. I have visited many schools and talked to tons of kids about weather over the years. The best part about it is the interesting questions I get asked. Children have creative minds, so it's fun to teach them about weather safety.
Remember, always keep an eye at the sky!