| | |
| --- | --- |
| | Welcome to Weather Wiz Kids®. I'm meteorologist Crystal Wicker. I designed this website especially for kids to allow them to learn more about the fascinating world of weather. It's also a wonderful educational website for teachers and parents to give them the right tools to explain the different types of weather to children. |
Meteorology - The science that deals with the phenomena of the atmosphere, especially weather and weather conditions.

________________________________________________________________

WEATHER HEADLINES


A volcano in Japan erupted on Saturday, September 27th. Mount Ontake, about 130 miles west of Tokyo, erupted shortly before noon on Saturday, sending thick plumes of smoke and rocks into the air. About 250 people were near the 3,067-metre peak when the eruption occurred. Most were able to make their way down the mountain to safety. Officials said the volcano had shown no indication that it was about to erupt with such force. An official at the volcano division of the meteorological agency said that although there had been a rising number of small earthquakes detected at Ontake since 10 September, the eruption could not have been predicted easily. This eruption of Ontake was not especially powerful, but distributed several centimetres of ash across areas close to the summit. It seems similar to its 1979 eruption, which is the only other eruption of this volcano in historic times.
Be sure to always have survival kits in your home and car.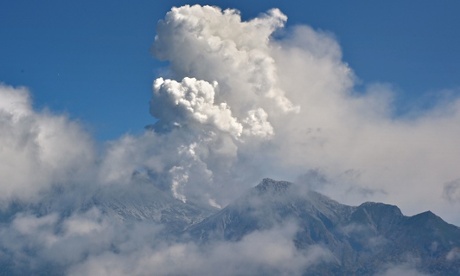 If you're a fan of Weather Wiz Kids, then check out my other website, ExploringWeather.com.