| | |
| --- | --- |
| | Welcome to Weather Wiz Kids®. I'm meteorologist Crystal Wicker. I designed this website especially for kids to allow them to learn more about the fascinating world of weather. It's also a wonderful educational website for teachers and parents to give them the right tools to explain the different types of weather to children. |
Meteorology - The science that deals with the phenomena of the atmosphere, especially weather and weather conditions.

________________________________________________________________

WEATHER HEADLINES


Lava fountains danced along a lengthy volcanic fissure near Iceland's subglacial Bardarbunga volcano Sunday, August 31st, prompting authorities to raise the aviation warning code to the highest level and close the surrounding airspace. The red warning code, the highest in the country's alert system, was raised after the eruption in the Holuhraun lava field, about five kilometers (three miles) north of the Dyngjujoekull glacier. The warning was lowered 12 hours later as visibility improved and it was clear that no volcanic ash was detected. Sunday morning's eruption at about 1 a.m. EDT followed a smaller one in the same site on Friday. Thousands of small earthquakes have rocked the region in recent days, leading to concerns that the main volcano may erupt.
Be sure to always have survival kits in your home and car.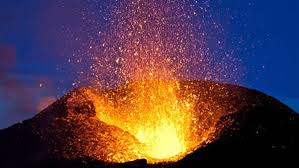 If you're a fan of Weather Wiz Kids, then check out my other website, ExploringWeather.com.