| | |
| --- | --- |
| | Welcome to Weather Wiz Kids®. I'm meteorologist Crystal Wicker. I designed this website especially for kids to allow them to learn more about the fascinating world of weather. It's also a wonderful educational website for teachers and parents to give them the right tools to explain the different types of weather to children. |
Meteorology - The science that deals with the phenomena of the atmosphere, especially weather and weather conditions.

________________________________________________________________

WEATHER HEADLINES


NOAA's Climate Prediction Center has issued its U.S. Winter Outlook. The Precipitation Outlook favors above-average precipitation across the southern tier, from the southern half of California, across the Southwest, South-central, and Gulf Coast states, Florida, and along the eastern seaboard to Maine. Above-average precipitation also is favored in southern Alaska and the Alaskan panhandle. Below-average precipitation is favored in Hawaii, the Pacific Northwest and the Midwest. Last year's winter was exceptionally cold and snowy across most of the United States, east of the Rockies. A repeat of this extreme pattern is unlikely this year, although the Outlook does favor below-average temperatures in the south-central and southeastern states. In addition, the Temperature Outlook favors warmer-than-average temperatures in the Western U.S., extending from the west coast through most of the inter-mountain west and across the U.S.-Canadian border through New York and New England, as well as Alaska and Hawaii.
Be sure to always have survival kits in your home and car.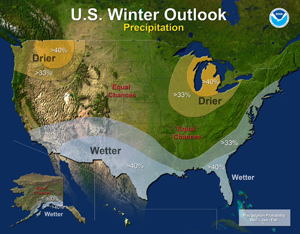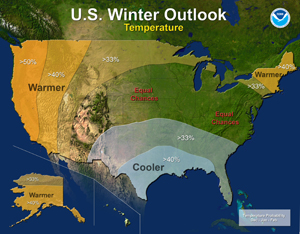 If you're a fan of Weather Wiz Kids, then check out my other website, ExploringWeather.com.