| | |
| --- | --- |
| | Welcome to Weather Wiz Kids®. I'm meteorologist Crystal Wicker. I designed this website especially for kids to allow them to learn more about the fascinating world of weather. It's also a wonderful educational website for teachers and parents to give them the right tools to explain the different types of weather to children. |
Meteorology - The science that deals with the phenomena of the atmosphere, especially weather and weather conditions.

________________________________________________________________

WEATHER HEADLINES


Arctic air is now firmly entrenched over much of the nation's mid-section, Northwest and, finally Northeast, sending temperatures crashing to values you might expect in mid-winter in some areas. Last week, heavy snow fell across the Northern Plains and Upper Midwest. With blocking high pressure aloft over eastern Alaska and northwest Canada, a direct pipeline of cold air will come from Siberia to near the North Pole, then southward into Canada and the U.S., particularly the Plains and Midwest. While not nearly as cold in magnitude, the arctic surges will also sweep into parts of the East. This is a classic Arctic outbreak pattern that will remain largely locked in over these areas this week.
Be sure to always have survival kits in your home and car.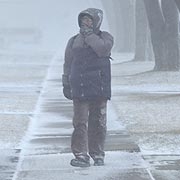 If you're a fan of Weather Wiz Kids, then check out my other website, ExploringWeather.com.