About Crystal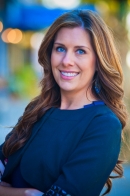 Hi there, my name is Crystal Wicker. Ever since I was a child, I have always been fascinated with the weather. I remember going outside with my father and watching thunderstorms pass by. During one thunderstorm in particular, a tornado ripped through my hometown of Kendallville, Indiana and just missed my grandparents house. It was one of the scariest moments of my life and is one of the reasons I am a meteorologist today.
I have a Bachelor of Science degree in Meteorology and a minor in Journalism from Northern Illinois University. I have earned the prestigious American Meteorological Society's Seal of Approval and the National Weather Association's Seal of Approval. I'm also a member of both organizations.
While I was in college, I interned at many different television stations and also did weather for the local television station on campus. During my senior year, I started working at WIFR-TV in Rockford, Illinois as their weekend meteorologist. Then, I moved to New Orleans, Louisiana and worked for WVUE-TV as their morning meteorologist.
In New Orleans, I covered many tropical systems, including Hurricane Katrina. Katrina was a strong Category 3 hurricane that made a direct impact on the city. It was the most challenging forecast I've ever made. When I went back to the city after the hurricane struck, I couldn't believe all of the damage. It just shows you how powerful hurricanes can actually be.
After Katrina, I accepted a job at WRTV-TV in Indianapolis, Indiana to be closer to my family.
Some of my hobbies include collecting antique weather instruments, keeping in shape and hanging out with friends. Growing up in Indiana has also made me a huge fan of auto racing. NASCAR is my favorite.
I developed the Weather Wiz Kids web page as an effort to show kids the exciting world of weather.
I have gone to many schools and talked to tons of kids about weather. The best part about it is the interesting questions I get asked. To me, getting kids interested in weather is one way I can help the community.
Remember, you can do anything you want to as long as you set your mind to it.